Shun is a well established label in Japan that specializes in the production of high-quality kitchen knives. The brand is part of the Kai Corporation, a company known for its excellence in cutlery manufacturing and other household products. Kai Shun knives are widely respected in Japan and sought after by professional chefs and culinary enthusiasts worldwide. The brand combines traditional Japanese craftsmanship with modern technologies and materials to create knives that deliver exceptional cutting performance.
The history of Kai Corporation, the parent company of Shun dates back to 1908 when it was established by Saijiro Endo in Seki City. Originally named "Seki Safety Razor Company", it began as a small manufacturer of folding knives, razors and cutlery.
Over the years the company expanded its product range and adopted the name "Kai" in 1932. Kai Corporation continued to innovate and develop new products including kitchen knives, scissors, personal care tools and more. The company gained recognition for its commitment to unvarying quality and craftsmanship.
In the 1970's, Kai Corporation introduced its first kitchen knife series: Kai Shun (pronounced "Shoon"), Japanese for "at the peak of perfection" which marked the beginning of its journey into the world of premium kitchen knives. Drawing on the rich tradition of Seki City's knife making, Kai Corporation applied its expertise and innovative spirit.
A direct descendant of the company's founder, Kai Chairman and CEO, Koji Endo, conceived the bold idea of bringing high-quality Japanese cutlery to the US and European markets. The challenge for Endo and the new brand would be to maintain the extreme quality for which Japanese cutlery is known for while producing it in quantities that would meet growing demands. For Endo, it was vital to maintain the tradition of handcrafting each knife.
Today, that tradition endures. Each Shun still takes at least 100 handcrafted steps to complete and Shun remains true to Seki City's ancient heritage of quality. At the same time, Shun takes advantage of thoroughly modern state-of-the-art technologies. One of the distinguishing features of their knives is the use of high-quality steel. The blades are often made from a type of Japanese stainless steel known as VG-MAX. This steel is known for its excellent edge retention, sharpness and corrosion resistance. Some of their knives also incorporate Damascus patterns on the blades, created by layering and folding different types of steel, adding both strength and visual appeal.
The handles are designed for comfort and balance during use. They're typically made from durable materials like laminated wood, Pakkawood or synthetic materials. The ergonomic designs ensure a secure and comfortable grip allowing for precise control while cutting.
Kai Shun knives are meticulously crafted using a combination of traditional techniques and modern manufacturing processes. Skilled artisans work with precision to shape, sharpen and finish each blade ensuring the highest standards of quality and performance. With a commitment to continuous improvement and innovation, Kai Corporation strives to create knives that meet the evolving needs of both culinary professionals and home cooks. The company's dedication to quality, craftsmanship and customer satisfaction has solidified its position as a respected name in the cutlery industry.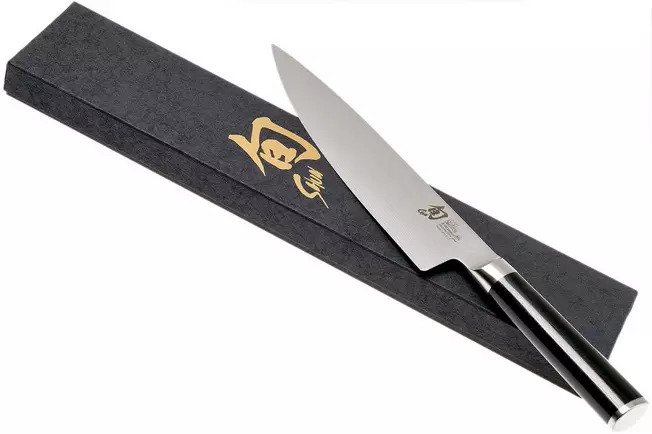 See current series at their USA website
shun.kaiusa.com
See the Kai Shun store at Amazon
Amazon.com