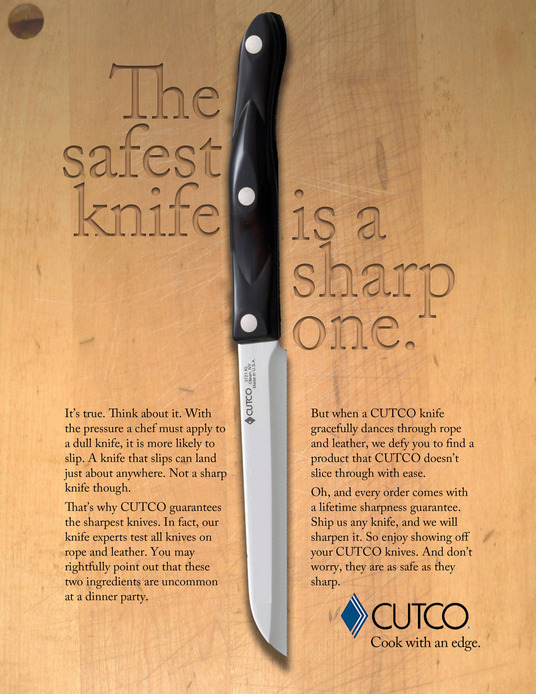 Cutco is an American brand known for its high-quality knives and kitchen tools. The company's history dates back to 1949 when Alcoa, a leading aluminum manufacturer established a new division called Alcas (short for "Alcoa Consumer Products") to produce knives.
Alcas created a direct sales model for Cutco selling their products through in-home demonstrations and personal sales representatives. This approach allowed customers to experience the quality and performance of Cutco knives firsthand while spreading the brand awareness.
Cutco knives are made from high-carbon stainless steel and are known for their durability, performance and edge retention. The blades are typically produced using a combination of traditional forging techniques and modern precision technology. Over the years, Cutco has expanded their product lines beyond knives to include a variety of kitchen tools, flatware and accessories. The brand focuses on providing a wide range of high-quality products that meet the needs of both professional chefs and everyday home cooks.
In 2009, Alcas changed its name to Cutco Corporation to better align with the brand's identity. Although now available through a variety of retailers, Cutco remains committed to its direct sales model as well as online sales through their website and through their authorized sales representatives. The company has also earned a reputation for their excellent customer service. They offer a "Forever Guarantee" which provides free sharpening and repairs for the lifetime of the product. This commitment to customer satisfaction has helped build a loyal customer base across North America. Cutco knives do not come cheap and it is this after-sales service that you'll find reflected in the retail price.
Today, Cutco is headquartered in Olean, New York and continues to manufacture its products in the United States. The brand is recognized for its quality, innovation and long-standing presence in the cutlery industry. Overall, Cutco's history is characterized by its dedication to producing high-quality knives and kitchen tools while utilizing a unique direct sales approach. This combination has contributed to the brand's 70+ years of success.
Cutco.com